Budget Finder 2/3 Berth Camper
---
The Hi Top Budget Camper is one of our most popular vehicles - and it's easy to see why. Creative design and clever use of space means 2 - 3 people can travel and live in total comfort. The driving cabin has seating for three with a radio/cassette. The extra vertical space in the living area creates an airy, spacious feeling and ease of movement - and a good-sized double bed and roomy single make for comfortable sleeping. Every drawer and cupboard reveals a surprise - fridge, stove, wardrobe, crockery, cutlery, linen, towels and much more. With the Hi Top Budget Camper you not only get freedom and comfort to travel where you wish, you can also enjoy the economy and ease of an engine running on unleaded petrol with manual transmission. Everything you need to take you to your New Zealand Adventure holiday.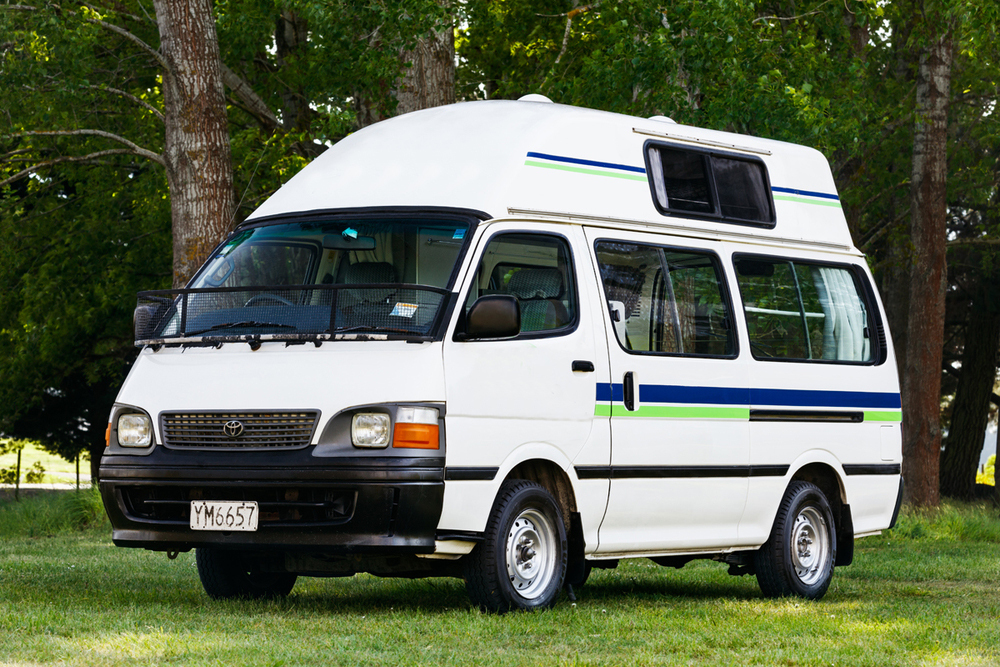 Toyota Hiace 1999 
  5 Speed Manual
  Sleeps 2 adults and 1 Child
  2.4 litre engine size
  14 litres per 100km
Pick-up/drop off locations
Auckland Airport,  Christchurch Airport, Queenstown - Other locations on request and availability.
---
Ferry option
We can book the ferry crossing for you, should this be on your itinerary.
---
Camper layout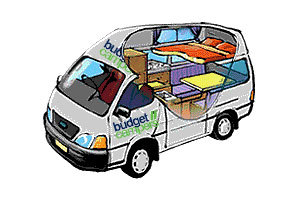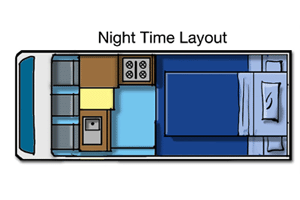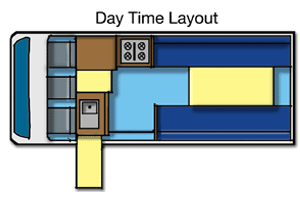 ---
$30 to $135 NZD
---
  2/3
---
---
More hire info
Vehicle make
Toyota Hiace 
Sleeping Capacity
Sleeps 2 adults 1 Child
Beds
1 double  bed  and 1 single bed
Bed Dimensions
Double  : 1.85x1.5m  Single : 1.95x 1.7m
Seatbelts 
3
Fridge/Freezer
55l
Microwave
Yes 
Gas Stove
Yes
Sink
No
Hot/Cold pressurized water 
Cold only
Fresh water tanks
42l
Waste water tank
42l
Shower
No
Toilet
No
Power Supply
Dual 12V battery system / 240V mains
Entertainment 
Radio and Cd Player 
Airconditioning 
In Cab
Heating
Yes
Internal walk through
No
Gas bottle
Yes
Child and booster seat fittings
Yes
Transmission
Manual
Fuel 
Petrol Only
Fuel tank capacity
14l per 100 Km
Length
4.65m
Width
1.75m
Height
2.10m
 Internal height
1.82m  
All prices in $NZD
1 Nov-15 Dec 2017
16 Dec 17 - 10 Jan
11 Jan -Feb 28
1 Mar 18 - 31 Mar 18
1 Apr 18 - 30 Apr 18
1 May 18 - 30 Sep 18
1 Oct - 31 Oct 18
5-20 Days 
80
140
120
105
5

0

 
34 
55
21 - 35 Days 
75
135
115
100
45
30
50 
36 Days + 
70
130
110
95
40
27
45