Escape 2/3 Berth Camper
---
Each campervan sleeps up to 3 adults and is fully equipped with bedding, beach chairs, kitchen facilities/utensils and more. Also camper is individually painted by one of our talented artists so you can choose your own 'flavour' and create a New Zealand experience which is unique to you
  Missan Caravan or Toyota Hiace van.
  Transmission or Automatic van are availables.
  Sleeps 2-3 adults
  2.0 litre engine size,4 cylinder.
  50-60l tank capacity
Pick-up/drop off locations
Auckland Airport,  Christchurch Airport, Picton - Other locations on request and availability.
---
Ferry option
We can book the ferry crossing for you, should this be on your itinerary.
---
Camper layout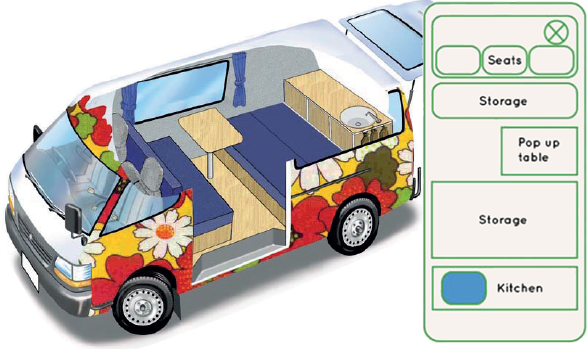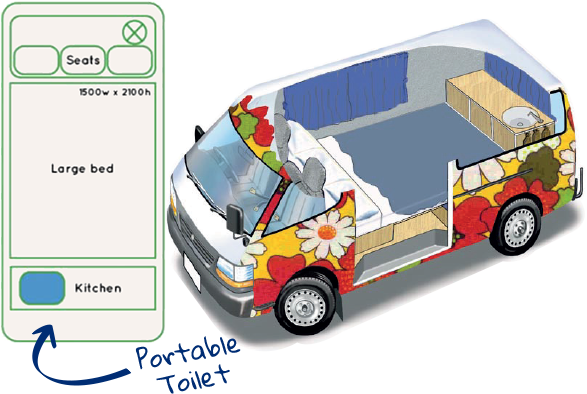 ---
$65 to $165 NZD
---
  2-3
---
---
More hire info
Spec
Campervan 2-3 Berth Self Contained
 Vehicle make 
Nissan Caravan or Toyota Hiace

 

 Sleeping Capacity 
 

Sleeps 2 or 3 adults

 Beds 
1 queen size bed 
 Bed Dimensions 
Queen  : 2.1x1.5m   
 Seatbelts  
3
 Fridge/Freezer 
No ( Chilly bin)
 Microwave 
No 
 Gas Stove 
Yes
 Sink 
Yes
 Hot/Cold pressurized water  
No
 Fresh water tanks 
10-20l
 Waste water tank 
10-20l
 Shower 
No
 Toilet 
Yes ( chemical toilet)
 Power Supply 
240V Mains power connection cabling (for use at powered sites)
 Entertainment  
Radio, CD/MP3 player 
 Airconditioning  
Yes
 Heating 
Yes
 Internal walk through 
No
  Gas bottle 
Yes
 Child and booster seat fittings 
No
 Transmission 
Manual or automatic
 Fuel  
Unleaded 91
 Fuel tank capacity 
50-60l
 Length 
4.5m-4.8m
 Width 
1.7 average
 Height 
2.1m average
 Internal height 
1.35m average 
$35 per day
  Liability to $0 
  No liability deposit required
Maximum charge $1250
  Table, solar shower, portable BBQ, GPS
  Snow chain, child seat,bicycle rack.
  Tent, sleeping bag, additional linen
Pricing varies significantly depending on the season and availability.
Early bookings, as well as longer hire periods will generally have a lower the price.
Always ask for for a quote, as we'll be able to give you the best available price at that moment.